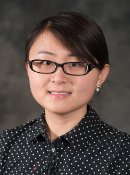 Spring 2013 Finishing Fellowship Awardees Announced
The Graduate School is pleased to announce the recipients of the spring 2013 finishing fellowships. The fellowships were made available by the support of the Graduate School.
Among the recipients is Hui Wang, PhD candidate in Materials Science and Engineering.
The fellowships recognize outstanding PhD students who are in need of financial support to finish their degrees. The awards are made available through the generosity of alumni and friends of the University.
Read more at Tech Today.