The results of the Michigan Tech 3-D Printers for Peace Contest are in: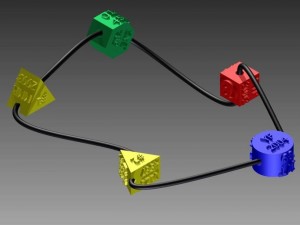 1st Prize an open-source Series 1 3-D printer, provided by Type A Machines went to John Van Tuyl from Hamilton, On who designed VaxBeads, which are 3-D printed immunization records. VaxBeads offer the potential to ease the determination of what vaccines a child needs in the developing world. Each bead represents a different vaccine. The shape and colour of each bead is unique to a specific vaccine.
This innovative idea showcased the ability of 3-D printing as each bead is customized on the spot with the child's initials, date of birth, and an identifying number. It is the designer's hopes that the beads would have more intrinsic value to the patients than standard vaccination cards.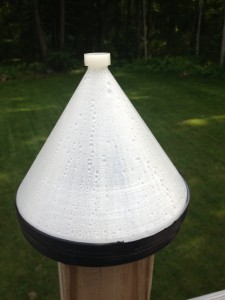 2nd prize (Michigan Tech's MOST version of the RepRap Prusa Mendel open-source 3D printer kit) went to Michigan Tech student, Matt Courchaine, for his Solar Powered Water Purification Cone. In disaster areas or among the millions of people that do not have improved water supplies clean water is a precious commodity. This printable design allows users to make clean water from contaminated supplies. The white, semi transparent plastic cover of the solar cone allows sunlight to pass through it and evaporate dirty water contained in the black base tray. Clean water then condenses on the cooler white plastic of the cone and drips into a holding reservoir, which is part of the cone for later drinking.
3rd prize, MatterHackers sampler pack of filament, was awarded to Aaron Meidinger for the design of a Braille Tablet, which is a tool for a sighted person to help a blind person to learn braille or just a quick way to leave a note for a friend. One prints out a braille platform and a scrabble set of letters, along with some of the punctuation and a nice pile of the blank tiles to use it to write any short message.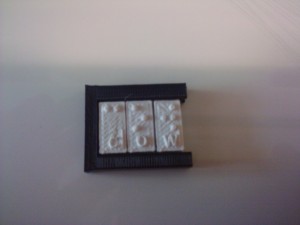 All the open source entries to the contest demonstrated the technical ability and promise of low-cost 3-D printers to provide for humanities needs and advance the cause of peace.
Immunization Beads Garner Top Prize in 3D Printers for Peace Contest
The judges were impressed with the design's originality and practicality. "VaxBeads are a novel idea; no one has done anything like that yet," said Pearce. "John demonstrated the ability of 3D printing to address a real need in the developing world. You could print beads fast enough to hand to children, and if they were to wear the necklace to the doctor's office, it would be quick and easy to identify missing vaccinations."
Read more at Michigan Tech News, by Marcia Goodrich.
Winner in 3D printer contest designs vaccination record system
"What I'm hoping this does is change the conversation to start really thinking about the constructive uses of 3D printers, not just on manufacturing, but trying to solve some of the most pressing problems, particularly in the developing world," said associate professor of materials science and contest creator, Joshua Pearce.
Read more at Upper Michigans Source, by Sarah Blakely.