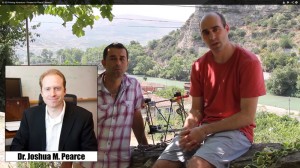 The Advisor and Source newspaper, serving Macomb County, Mich., published a story about the recent 3D printer workshop for teachers held at Michigan Tech.
From Tech Today.
A study by a Michigan Tech engineering team was cited heavily by Fox Business, which quoted Joshua Pearce (MSE/ECE). The team includes MSE students Ben Wittbrodt, Alexandra Glover, John Loreto and Gerald Anzalone (MSE), and Douglas Oppliger (EF), and John Irwin (MET). See online.
3D Hacker named Joshua Pearce (MSE/ECE) "Hacker of the Month" for his 3-D printing technological development. See 3dhacker.com.
From Tech Today.