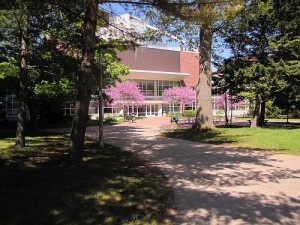 Students from all majors will get a chance to learn about career opportunities in the steel industry on Tuesday, Oct. 15, during Michigan Tech's first annual Steel Day. Major players in steel such as Gerdau, Nucor, Cliffs and Arcelor Mittal will be interacting with students in a fun and informational setting.
The day will start with a cookout on the Dow Patio from 10 a.m. to 2 p.m., when students can visit interactive displays set up in the Dow Atrium. At 6:30 p.m., a panel of industry experts will answer questions and talk with students in the Memorial Union Ballroom A. Later that evening, over $1,500 in prizes will be raffled off to participants.
To increase awareness of the steel industry, Michigan Tech's materials science and engineering department, Advanced Metalworks Enterprise and student professional society Materials United are working with Career Services to organize and publicize this event.
Steel Day is meant to engage all students who might be interested in pursuing a career in this vital industry. Company representatives are hoping to build personal relationships with first-and second-year engineering students in an effort to promote careers within the industry.
From Tech Today. Photo courtesy of the College of Engineering.