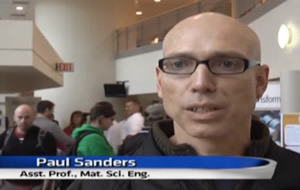 Michigan Tech undergrads meet with representatives in the steel industry
With the help of a $35,000 grant from the Association of Iron and Steel Technology, the university was able to invite companies to the first-ever Steel Day.
"The steel industry is a major manufacturing industry in the United States," said assistant professor in materials science engineering at Michigan Tech, Paul Sanders. "It provides a lot of jobs, it provides material for infrastructure. It's a really important industry, and we really want to get students who like that type of work, like manufacturing, and get them to help support the industry."
Read more and watch the video at Upper Michigan's Source, by Sarah Blakely.
Up close and personal with steel
Industry reps speak with Michigan Tech students
Brad Jonas, metallurgist with Charlotte, N.C.-based Nucor, said he was telling students although they may not have thought about the steel industry for a career, many types of engineers are needed in the field.
"We're trying to present opportunities engineers have with the steel industry," he said. "There's all sorts of avenues in our environment."
Jim Turnquist, Tech director of career services, said the first-ever gathering of steel industry representatives separate from Tech's Career Fair was created to highlight the growth of the steel industry and because many students may not realize the career potentials in the industry.
Read more at the Mining Gazette, by Kurt Hauglie.