The "Aluminum Corrosion Study—Automotive Electrical Systems" team placed first for Senior Design in the annual Michigan Tech Design Expo.
Aluminum Corrosion Study Team Members: Annie LeSage, Jacob Gerdt, Kyle Myszka,and Alexandra Glover, Materials Science and Engineering
Advisor: Steve Kampe, Materials Science and Engineering
Sponsor: Yazaki North America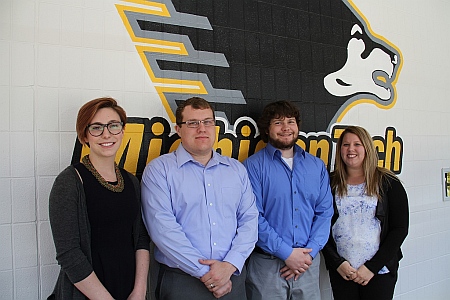 Project Overview:
The switch from copper to aluminum in automotive electrical systems is advantageous to U.S automakers and automotive component suppliers because it has the potential to decrease vehicle weight and raw materials costs. This switch also poses several challenges. This senior design project characterizes the galvanic corrosion rate of an aluminum substrate with a metallic plating when exposed to an electrolytic solution. This mimics the exposure of electrical components to a fluid containing salts or automotive chemicals. The results of this testing are critical to the success of the copper-to-aluminum substitution in automotive electrical systems. This is because they inform automotive component designers about the expected lifetime of such systems when exposed to a corrosive environment.
Video Clip about the Aluminum Corrosion Study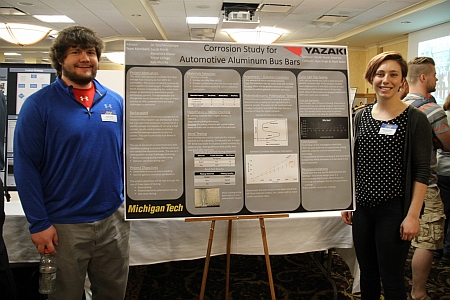 2015 Design Expo Image Contest Entries
Congratulations to MSE senior design team members Jordan Pontoni, Calvin Nitz, Shane Anderson and Austin DePottey for their first place image of a team member at work in the foundry. The image illustrates the team's project, Casting 357 Aluminum, sponsored by Eck Industries. The team's advisor is MSE engineer/scientist Thomas Wood.
Team 150, Title: "E357 Alloying to Increase Elongation and Maintain Mechanical Properties", the foundry shot.