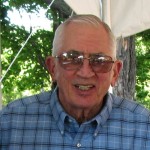 Article by Mark Wilcox
Michigan Tech Professor Emeritus Duane "Dewey" Thayer, a professor remembered by colleagues and alumni for his devotion to his students, has passed away. He died unexpectedly Friday at Dickinson County Memorial Hospital in Iron Mountain of an apparent heart attack. He was 81.
A native of Kingsford, Thayer came to Michigan Tech for a year, left and served in the U.S. Marine Corps for three years and was honorably discharged with the rank of sergeant.
Following his service, he returned to Tech where he earned bachelor's, '59, and master's, '62, degrees in metallurgical engineering.
He spent his career at his alma mater and retired from Tech as a professor of Materials Sciences and Engineering in January of 1997 and became an emeritus professor in the fall of that year. He was inducted into the Department of Materials Science and Engineering Academy in 2008.
Stephen Kampe, chair of Materials Science and Engineering, called Thayer, "one of a kind."
"He had a large personality in the classroom," Kampe said. "With a style and humor that was very memorable and the subject of considerable lore among his students. To many, Dewey Thayer exemplified the Michigan Tech of his era."
Kampe said colleagues enjoyed the sincerity of his friendship and the wisdom that he freely shared. "He will be missed," Kampe said.
Komar Kawatra, chair of chemical engineering has fond memories of his long-time friend and colleague.
"Duane Thayer was one of the most unforgettable people I have met," Kawatra said. He said Thayer cultivated an image of taking no nonsense and settling for nothing but the best from his students, but in reality he cared deeply about them and made them the focus of his life.
"He would give them money, food, advice, job leads and references and anything else they needed," Kawatra said. "He was affectionately known by the students as 'Dewey.' Even years after graduating, our alumni still talk about him as one of the professors who had the greatest impact on their lives."
One of those former students is Mike Gregory, '69, a vice president at North American Coal. More than four and a half decades after his time at Tech, Gregory has vivid memories of the man who made a deep impact on his education, his career and his life.
"Dewey, was a hard-charging man, a task master who expected a lot out of his students. He expected us to perform, but treated us fairly, and that's all you can really ask for."
Gregory said, in addition to being an outstanding educator, Thayer was a forward thinker. "What most people don't realize is that Dewey was way ahead of environmentalists. It was the 1960s, and he posed metal recycling concepts to his students, long before they became part of the conversation."
Thayer's impact was so significant on Gregory that in 1993, he and fellow alumni Ken Brunk, '69 and Jim Graham, '70, established a scholarship named in Thayer's honor for students majoring in the earth science and resource engineering curriculum with a focus of study in mineral processing.
In addition to being an educator, Thayer was an innovator and engineer, serving as an international consultant in mineral processing and extractive metallurgy.
He was active in the Copper Country community serving on the Quincy Mine Hoist Association Board of Directors, the Society of Mining Engineers, the American Legion and the Vets Club.
His survivors include his wife Mary, and daughters Cecile Cloutier, Martha Thayer, Mary Hoffman, Therese Hunwick and Susan Liebau, who is director of Michigan Tech's Waino Wahtera Center for Student Success.
Private funeral services will be held Saturday followed by a public wake from 4-6 p.m. at the Douglass House in downtown Houghton.
The family suggests memorial gifts be made to the Michigan Tech Fund, directed to the Duane Thayer Honorary Endowed Scholarship or to the Salvation Army. A complete obituary can be found at the O'Neill-Dennis Funeral Home's website.