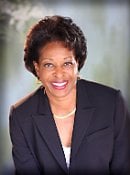 About 1,800 female Michigan Tech students were invited to Student Development Days with the Presidential Council of Alumnae (PCA). More than 200 students reserved their seats for the event on September 21-22, 2017. The theme of the two-day event was "HerStory," emphasizing the inspiration, value and wisdom communicated through individual stories that focus on the female perspective.
The event on the first day included lunch and Lightning Talks, 10-15 minute presentations by members of the PCA. Topics for the talks included: Negotiating salaries, dealing with conflict or disrespect in the workplace, making the most of your summer internship, socializing in the workplace, and professional communication at work. Lunch was sponsored by Ford Motor Company.
Keynote speaker Brenda Ryan kicked off the second day's events at breakfast, sponsored by Kimberly-Clark. Ryan graduated from Michigan Tech with a BS in metallurgical and materials engineering in 1976. She is the president and owner of Ryan Industries Inc., Ryan Properties LLC in Wixom, Michigan and Alliance Industries LLC, in Springfield, Missouri. She also serves as the current vice chair of Michigan Tech's Board of Trustees.
Following Ryan's address, students engaged in round-table discussions with members of the PCA. Round-table discussions allowed students to ask questions, express their concerns about the future, and receive personal advice from the women of PCA.