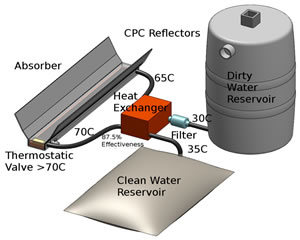 Joshua Pearce coauthored "Design Optimization of Polymer Heat Exchanger for Automated Household-Scale Solar Water Pasteurizer," published in Designs.
doi:10.3390/designs2020011
The study offers a promising approach to reducing the >870,000 deaths/year globally from unsafe water through the use of flow-through solar water pasteurization systems (SWPs). The high cost of the heat exchanger (HX) is addressed with the introduction of of a polymer microchannel HX as a substitute for coiled copper. The polymer microchannel HX is designed for a 3-D printed collector. The paper focuses on SWP systems fabricated using fully open-source distributed manufacturing.