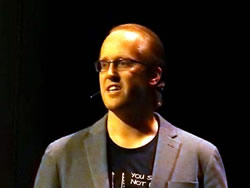 HOUGHTON — Five accomplished alumni of Michigan Technological University (MTU), who all have graduated from the institution in the last 15 years, returned to the Rozsa Center for the Performing Arts on Wednesday afternoon to tell students about their paths to success. MTU's inaugural Five Under 35 event has been more than two years in the making, according to moderator and MTU vice president of student affairs Les Cook.
Ben Almquist was the first speaker of the evening. Almquist graduated from MTU's Materials Science and Engineering program in 2004.
"Michigan Tech made me a baby," he said.
He continued to say that he didn't cry a lot, but his work at MTU made him curious again.