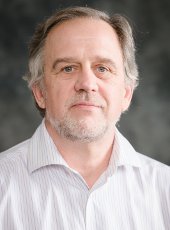 Lawrence Sutter (MSE) has been awarded the Distinguished Service Award and Innovation in Concrete Award.
The American Concrete Institute (ACI) Board of Direction, awarded ACI's Delmar L. Bloem Distinguished Service Award and the ACI Foundation's Jean-Claude Roumain Innovation in Concrete Award to Sutter "for outstanding leadership of Committee 232 – Fly Ash in Concrete" and "In recognition of your leadership in concrete materials education and research which has advanced the knowledge of deicer interaction, utilization of fly ash and alternate cements, and the nature of the air-void system to overall improve the sustainability and durability of concrete", respectively.
Award and presentation will be held March 24, 2019.