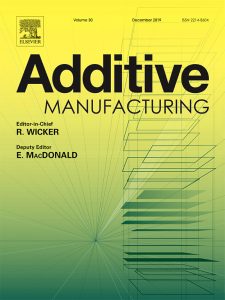 Joshua Pearce (MSE/ECE) and Michigan Tech alumnus Apoorv Kulkarni '18, coauthored "Polymer-derived SiOC Replica of Material Extrusion-based 3D Printed Plastics", which was published in Additive Manufacturing.
https://doi.org/10.1016/j.addma.2019.100988
The results of this experimental study open up a completely new avenue in low-cost 3-D printing of ceramic structures with fused filament fabrication (FFF) based methods.
In Print
Chelsea Schelly (SS) and Joshua Pearce (MSE/ECE) have published: Schelly, C. and Pearce, J.M. (2020). Bridging the Social and Environmental Dimensions of Global Sustainability in STEM Education with Additive Manufacturing. Chapter 8 (Pages 155-172) In Ali, N., & Khine, M.S. (Eds). Integrating 3D printing into teaching and learning: Practitioners' perspectives. Leiden, the Netherlands: Brill Publishing.
https://doi.org/10.1163/9789004415133
Alum Ben Savonen (ME) and visiting scholar Jennifer Bow (MSE) coauthored a paper with John Gershenson (ME) and Joshua Pearce (MSE/ECE) titled "Open-Source Three-Dimensional Printable Infant Clubfoot Brace" published in the Journal of Prosthetics and Orthotics.
doi: 10.1097/JPO.0000000000000257
In the News
Pearce's research was also covered in"Ystruder: New Syringe System Offers Feature Rich, Open-Source Multifunction Extrusion" published in 3DPrint.
Research by Joshua Pearce (MSE/ECE) on the sustainability of 3-D printing was highlighted in Spain's leading Industry publication Interempresas.