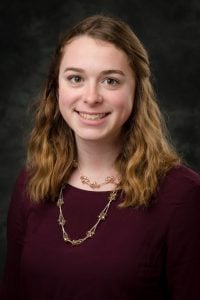 Michigan Tech offered so many resources that greatly improved my success. Grades are very important when applying to Physician Assistant (PA) schools, so the learning centers and tutoring kept me on track with my goal GPA. There was also a wide range of volunteer opportunities in health-related areas that helped me become more comfortable as a healthcare provider.
Bachelor of Exercise Science major helped me prepare for PA school by requiring a summer internship which opened doors for me getting more direct patient care hours which is a big focus for many PA schools. I also really enjoyed the tests and research I was able to do throughout my courses in this major.
I applied to CMU's program initially due to the success rate of their students in passing their PANCE exam first round and how driven they were in helping the underserved which is a large part of medicine. After interviewing at CMU for a spot in their program I felt the most comfortable with the faculty and students' view on community. Coming from Michigan Tech and a good program, community was very important to me in my decision. In summer 2019, I was accepted into Central Michigan's Physician Assistant Program!
The biggest advice I have for future students is to do extracurricular activities that will make you stand out through the application process. I was involved in Michigan Tech EMS which helped me become certified as an EMT. I then used my certification to build up experience and direct patient care hours for my application. I would also suggest taking a gap year between undergrad and PA school to get some job experience that will make certain aspects of PA school much easier.
I did a variety of extracurricular activities while at Michigan Tech. I worked for Student Health and Wellness as a Peer Health Advocate which strengthened my communication skills and was the best job I could've had throughout school. I volunteered with Michigan Tech EMS as a first responder giving me valuable patient experience. I was involved in research and was part of the Spartners program helping educate children about nutrition and fitness.
Michigan Tech helped me in my success in getting into PA school as well as giving me a good base of knowledge to help make connections with the new material. The application process isn't always easy but just remember to be yourself and show them what makes you stand out!