MICHIGAN TECH LODE STUDENT NEWSPAPER

  https://issuu.com/michigantechlode
---
ENTERTAINMENT & ENRICHMENT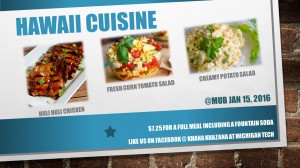 Khana Khazana Serving Hawaiian Cuisine
Khana Khazana returns for the Spring Semester Friday with delicacies from our 50th State. Hawaiian cuisine will be served at the MUB food court from 11 a.m. to 2 p.m. Friday. The menu features, Huli Huli Chicken. A popular dish of grilled chicken with a sweet teriyaki style barbecue sauce; Fresh Tomato Salad with tropical herbs and Creamy Potato Salad, soft potato with Hawaiian dressing.
Cost is $7.25 for the full meal which includes a fountain drink.
---

Get Connected to the Latest Event Updates and Earn Awesome Prizes During the #7daysofMUB
Win prizes including a Pebble Time Smartwatch, tickets to the Winter Carnival Comedian Judah Friedlander, Free Coffee Vouchers, and more by participating in MUB Board's 7 Days of MUB events and social media campaign. The more your participate, the better your chances of winning!
Sunday 1/17
 – Respond to our social media surveys
Monday 1/18
 – Post a picture rocking some Tech apparel with #HuskyPride and #7daysof MUB on Facebook or Twitter
Tuesday 1/19
 – Attend Pinterest Night and make some crafts with us from 
7:00 – 9:00pm
 in the MUB Commons, or stop by our table in Fisher between
11:30am – 1:30pm
.
Wednesday 1/20
 – Drop by our weekly meeting in MUB Ballroom A at 
5:00pm
 or stop by our table in Fisher between 
11:30am – 1:30pm
 to enjoy some snacks and learn what being a MUB Board member is all about!
Thursday 1/21
 – Come snap a #tbt greenscreen photo with your friends in the MUB Commons from 
11:00am – 1:00pm
.
Friday 1/22
 – Laugh away you post-break stress with Comedy Hypnotist Dan Lornitis in the MUB Ballroom at 
9:00pm
.
All Week Long – Participate in our #MUBSelfieQuest and share your pictures in our selected locations around campus. Check our Facebook and Twitter pages each day for new locations. Win an action camera for completing the most locations!
Pinterest Night
Do your windows look barren, as though they could improve from some fun decorations? Do you ever wish you could encase a beloved family photo in a piece of wood? Worry no more, craft lovers! Come to Pinterest Night, 
Tuesday, Jan. 19, 7PM – 9PM
 in the MUB Commons. You'll be able to make a ton of awesome crafts, including window clings, spoon lamps, wood photos, and pearler beads. Join us and have a blast!
Comedy Hypnotist Dan Lornitis
Bring your friends and join us 

Friday, January 22

 in the MUB Ballroom at 

9:00pm

 for a show like no other! (AT NO COST) Dan's show is current, it's absolutely hysterical, and it's also totally unique. So if you think that hypnotists are a seen-one-seen-them-all proposition, you really need to check out Dan Lornitis. It's all about the performer, and Dan brings it to a whole new level, with laughs-per-second that will beat any other act out there.
---
Film Board Presents 
Bridge of Spies
Welcome back! We hope you had a great break. This weekend, Film Board Presents:
Bridge of Spies, starring Tom Hanks
Friday, Jan. 15
 @ 
5:30
, 
8:30
, 
11:30
Saturday
, 
Jan. 16
 @ 
2:30
, 
5:30
, 
8:30
, 
11:30
Sunday, 
Jan. 17
 @ 
2:30
, 
5:30
Located in Fisher 135.
Tickets are $3, Concessions are $1 each. Watch the trailer
HERE
.
---
A Jazz Prescription for Your Winter Blues: Jazz Cabaret @ the Rozsa
Time for a jazz check-up? Dr. Mike's Rx for indoor winter activities = Jazz: Creative, fresh, interactive, soothing, food for the soul, and nourishment for the ears. On Friday and Saturday, January 15th and 16th, the Jazz Cabaret-Backstage at the Rozsa will administer the basic nutrients of swing, bebop, Latin, funk, soul, blues, and contemporary to heal anything that ails you. Let our in-house musicians make your evening memorable, enjoyable and enriching. The Rozsa stage becomes a pop-up jazz club, and the intimate club atmosphere is a perfect setting for the "jazz-med staff," including Jaztec: A mainstream quintet that will stimulate all of your vital signs; Momentum: A 9-piece horn band providing the latest in soul treatments; and the Dan Fuhrman Trio: They will get your blood pumping with adventurous takes on great jazz standards. Join Jazz Studies Program Director Mike Irish and the Michigan Tech Jazz ensembles for two nights of Jazz Cabaret: Backstage at the Rozsa this Friday and Saturday nights, January 15-16, 7:30 PM.
---
WORKSHOPS, MEETINGS & INFO SESSIONS

HuskyLEAD Session, A Husky's Guide to a Winning Semester
Please join Student Activities for the first HuskyLEAD session for Spring 2016.  Susan Liebau and Heather Simpson from the Waino Wahtera Center for Student Success will be presenting "A Husky's Guide to a Winning Semester" at 
6:00 PM
 on 
Tuesday, January 19, 2016
.  The session will last for one hour only.
Start your semester right – revisit time-tested strategies and learn new approaches to getting and staying on track academically, setting and achieving goals and maximizing effectiveness with the time you have available.
HuskyLEAD is a series of professional development workshops designed to develop the leadership skills of students.  All Michigan Tech students are welcomed and there is no pre-registration or cost to attend.  Any questions about HuskyLEAD can be directed to Maryann Wilcox at 906-487-2402 or mawilcox@mtu.edu.
---
Houghton-Hancock Rotaract Club Hosting Info Meeting
Please join us on Wednesday, January 20 at 7PM in Fisher 127 for an info meeting on what our club has to offer in the way of community service, professional development, networking, international service, projects, leadership development, and the annual charity ball. All are welcome to attend! For more information please contact Erin at eknoeck@mtu.edu or visit our Involvement Link page.
---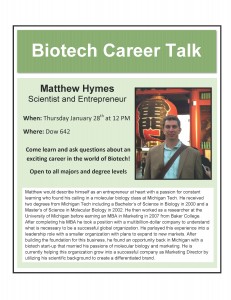 Biotech Career Talk
Michigan Tech Alum Matthew Hymes will be presenting about his career as a scientist and entrepreneur with biotech startups on Thursday January 28th at 12 PM in DOW 642, see flyer for more details.
---

Derek Yu, Signals Engineer from Alstom USA on Campus
The Railroad Engineering and Activities Club will be having first General Business Meeting of the semester on Tuesday (1/19) at 7:00 PM in Dillman 214. We have guest speaker, Derek Yu from Alstom coming in to discuss the transition from a college grad to a professional in the rail industry. He will also touch on his current position as Product Solutions Manager in Alstom's railway signal department. Come to learn about current job/internship opportunities and our upcoming trips! All majors are welcome to join us! FREE pizza and pop!
---
CAMPUS NEWS
Outdoor Adventure Program Closed on Saturday, January 16
The OAP will be closed on Saturday January 16, 2016 for staff training and development.  We will re-open on Sunday January 17 at 6:00PM.
---
OAP Offering Snowshoe Rental Deal
For the month of January 2016 the Outdoor Adventure Program (Located at 207 East Street) is running a deal for snowshoe rentals, Rent 1 get 1/2 off second pair. The rental center is open Monday – Saturday noon -5:00PM and 6PM-8PM on Sundays. Call 906-487-2290 for more information.
---
COMMUNITY NEWS
Intermittent nighttime closures of Portage Lake Lift Bridge set for week of January 25
Intermittent nighttime closures of the Portage Lake Lift Bridge have been scheduled for January 25-29 as part of ongoing maintenance work. The closures will likely result in delays for motorists. The contractor for the Michigan Department of Transportation (MDOT) will be testing new bridge components. These tests require a series of lifts of the bridge span and a full closure of the bridge to traffic. Motorists should expect delays of up to 15 minutes between 7 and 11 p.m.and delays of up to 30 minutes between 11 p.m. and 4 a.m. during the testing period. The lower bridge deck will be closed to snowmobile traffic during these tests. The $8.4 million project involves upgrades and preventive maintenance on the Portage Lake Lift Bridge between Houghton and Hancock. The project started in mid-December 2014 and is scheduled to be completed in mid-April 2016.
---
Salvation Army Showing Inside Out
This Saturday, the Salvation Army is having our first movie night and we are showing "Inside Out". Students from Michigan Tech are welcome to come and enjoy the movie. The movie starts around 6:00PM and it will be at their main building in Hancock. They are aslo looking for any college students to donate their time in tutoring children who needs help in school. The after school program will begin on March 1st. If you are interested in participating in this opportunity, please contact Chris at chris_nicolai@usc.salvationarmy.org or call 906-370-1131. The volunteers are required to go through a background check and a safe from harm training that will be held on February 27. If you already took a similar class that has the same concept, you will have to get a record of the class and send it to our headquarters.
---
SPORTS & WELLNESS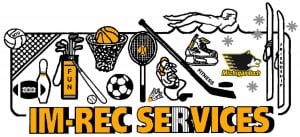 Upcoming Intramural Events
Entry Deadlines:
Spring Basketball (Men's, Women's, & Co-Rec): January 15 @ 1:00 pm
– Season Starts:  Week of January 18
Co-Rec Volleyball League:  21 – Jan 15 (3:00 pm): January 15 @ 3:00 pm
– Season Starts:  January 21
Bowling (Men's, Women's, & Co-Rec): January 15 @ 3:00 pm
– Season Starts:  January 21
Racquetball CO-Rec Doubles: January 25 @ 5:00 pm
Table Tennis Singles: January 29 @ 12:00 pm
– Tournament on January 29 at 6:00 pm
Table Tennis Doubles: January 30 @ 3:00 pm
– Tournament on January 30 at 10:00 am
Intramural Officials' Meeting/Clinic Schedule
Volleyball:
RULES/CLINIC: Tuesday, January 19 @ 6:00 pm – SDC, Room 121
– No Experience Necessary! We will train everyone who is interested.
– Officials are paid hourly with opportunities to become state certified and work outside contests to earn more money.
– If you are interested in officiating, you must attend all of the sessions for that sport.
– For more information E-mail imsports@mtu.edu
---
CAREER SERVICES
Coming to you from Career Services
---
---
---
DID YOU KNOW?
MTMC Holding Online Appointments
The Michigan Tech Multiliteracies Center is a free interdisciplinary resource for Tech students, faculty and staff working on diverse types of writing and presentations typically encountered in academic and professional life. We commonly assist with resumes, reports, essays, multimedia projects, speeches, document formatting and citations.
The MTMC is available for scheduled classroom workshops, and we are dedicated to working with instructors of all diciplines. Michigan Tech institutional research has found that students who sign up for MTMC appointments are more likely to receive higher grades and return the following year.
We hope all instructors encourage their students to visit the MTMC for writing and presentation assignments. In order to help instructors offer extra credit for MTMC attendance, we provide "receipt of appointment" slips to students on request.
This semester, the MTMC is starting a new email tutoring service. Students will be able to email their papers to the MTMC and receive written feedback. Because this service is new, it will have limited availability (six appointments per week).
For videos and written instructions about how to make an appointment with the MTMC, visit our 
website
.
The MTMC offers students study teams, one-on-one sessions, graduate writing groups, standing weekly appointments and online appointments. We work with students on every stage of the writing and presenting process, from brainstorming to polishing.
Questions and requests can be directed to
 Bill De Herder
, the MTMC Assistant Director. The MTMC is located in the Walker Arts and Humanities Center, Room 107.
---
REMINDERS
ADVENTURE SPRING BREAK 2016 with the Outdoor Adventure Program
The OAP student staff plan a number of Spring break adventures for students. The OAP prides itself on offering a quality experience in the outdoors, planned and led by student trip leaders. Our student trip leaders have extensive training, including Wilderness First Responder Certification and previous trip leader experience. Our trip leaders spend a great deal of time researching and planning these trips to ensure a safe, fun, and sometimes educational experience for their peers.
Yosemite Valley Experience! Live in Yosemite Valley, California for the week! Activities could include hiking, skiing, snowshoeing, ice skating, climbing, and soaking in the Yosemite Valley culture. Price: $300 (+ airfare to San Francisco Airport)
Southbound Experience – Orange Beach, Alabama with pit stops at Red River Gorge and Mammoth Cave! Get your swimsuits ready! We will be snorkeling, go-karting, kayaking, spelunking, hiking, and beach bumming for the week Price: $550 (includes activities, travel, food, and lodging)
For questions, please contact the Outdoor Adventure Program at oap@mtu.edu or call (906) 487-2290 between the hours of noon-5:00PM.
---

Tickets on Sale Now for Winter Carnival Comedian, Judah Friedlander
On the comedy stage, Judah Friedlander is The World Champion. He is the best athlete in the world, greatest martial artist, the sexual desire of every woman, and a role model to children. Let's face it, Judah is the greatest comedian in the world… And the most humble. Judah is an extra-dark black belt in karate. You can watch Judah as "Frank Rossitano" on the Emmy-winning "30 Rock" every night in syndication & on Comedy Central. Judah has made multiple hilarious appearances on many late night talk shows including: Letterman, Conan, Fallon & The Daily Show.
Student Tickets are $5 and available for purchase at the Central Ticketing Office in the Student Development Complex with a valid HuskyCard. Monday – Friday: 8 am – 9 pm Saturday: 8 am – 7 pm Sunday: 11 am – 8 pm. Non-Student Tickets are $15 and can be purchased online at rozsa.mtu.edu, by phone at 906-487-2073, or at the Central Ticketing Office in the SDC.
---