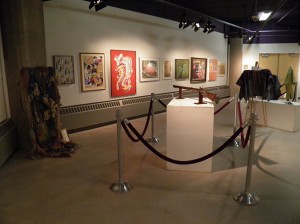 Great Lakes Showcase at Rozsa
Professor of Art Mary Ann Beckwith, of visual and performing arts, says, "This year's show offers a stunning array of artwork from throughout the region–varied enough to find something to please every viewer."
Over $2000 worth of awards will be given this year to recognize outstanding work in both two-dimensional and three-dimensional categories. The three top prizes are sponsored by the president, provost and dean.
Read more at Tech Today, by Bethany Jones.
The Great Lakes Showcase is a fine arts and crafts exhibition. Free to the public, it will be open from March 12 to March 30, 2012 in the Rozsa Center for Performing Arts.
The 2012 Prospectus is ready. The deadline for receiving the application, images and entry fee is January 20, 2012. Entries are juried. Artists may submit up to 4 entries. Read more about awards, eligibility, conditions, presentation, shipping, sales, entry fee, and pick up.
Visit the Great Lakes Showcase web page at the Department of Visual and Performing Arts.
Visit us on Facebook.