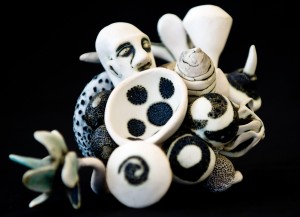 The DeVos Art Museum in the School of Art and Design at Northern Michigan University has a UP Focus Exhibit for March 2 to April 8, 2012. Featured artists are Susanne Kilpela, Carol Phillips and Russ Prather.
The UP: FOCUS series is an annual exhibition highlighting artists who live in or are heavily influenced by the Upper Peninsula of Michigan. Susanne Kilpela is a ceramic and installation artist based in Hancock. Carol Phillips and Russ Prather are painters based in Marquette.
Closing Reception: Friday, April 6, 6-8pm
UPDATE: View the UP Focus album on Facebook.