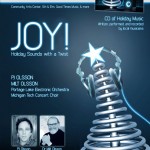 Christmas often brings families together, and father-son duo Milt and PJ Olsson have combined their varying musical talents to release a Christmas album, "Joy."
Four years in the making, "Joy" unites the classical arrangements of Milt – the former Keweenaw Symphony Orchestra director – with the Grammy-nominated engineering and production skills of PJ. The result is a modern take on classic holiday favorites.
The album includes music sung by the Michigan Tech Concert Choir in 2006 with rhythm added to it.
Read more at the Mining Gazette, by Zach Kukkonen.
"Joy! Holiday Sounds with a Twist"
Read more at the Michigan Tech Lode, by Corey Saari.