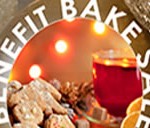 "Ana's Angels" Benefit and "Challenge Donation" Combine at the Rozsa Family Christmas Celebration
The goal is to get 1,000 people to the Rozsa Center next Friday, Dec. 21, in support of the Olsson family, for a very special community Christmas celebration and benefit.
The Youth Dance Program (YDP) and the Rozsa Center present a family holiday event and Ana Olsson Benefit.
Evening highlights include an original presentation of "The Night Before Christmas" by the students of the YDP along with select members of the Dance Team and Cheer Team, followed by a screening of the Walt Disney Studio's 1983 film, "Mickey's Christmas Carol," in the Rozsa theater, and an Ana Olsson Benefit Bake Sale and Silent Auction in the Lobby, from 7 to 10 p.m. The dance and movie will begin at 7:30 p.m., and tickets are $8.
Read more at Tech Today, by Bethany Jones.