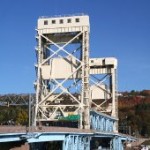 This Friday, Feb, 22, at 7:30 p.m., Michigan Tech's Superior Wind Symphony, under the direction of Mike Christianson, will present a concert at the Rozsa Center titled, "RE: Location," that will send listeners on a musical journey from New York City to the forests of the Upper Peninsula. Be swept away while sitting in your seat.
Tickets are $12.75 for adults, and free for Michigan Tech Students. To purchase tickets, call 487-2073, go online at rozsa.mtu.edu , or visit Ticketing Operations at the SDC. SDC box office hours are 8 a.m.–9 p.m. Monday-Friday, 8 a.m.–7 p.m. Saturday, and noon-8 p.m. on Sunday. Please note the Rozsa Box Office is closed during regular business hours and will only open two hours prior to show times.
From Tech Today.
Superior Wind Symphony Returns to the Rozsa
Read more at the Michigan Tech Lode, by Alex Saari.