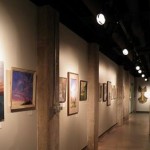 The Rozsa Center is pleased to announce the opening of the 2013 Great Lakes Showcase: An Annual Juried Exhibition of Fine Arts and Crafts, sponsored by Michigan Tech's Department of Visual and Performing Arts. The public is invited to a reception for the artists on Tuesday, March 5, 7 p.m.-9 p.m.
According to Susie Kilpela, artist and longtime faculty member of the VPA, "I am happy to be involved in the GLS, a celebrated art exhibit at Michigan Tech."
According to showcase coordinator Sarah Fayen Scarlett, "The Peoples' Choice award gives visitors a chance to choose their favorite. Come in and vote for the piece you like best!"
Read more at Tech Today, by the Rozsa Center for the Performing Arts.