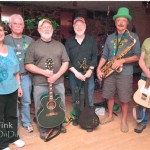 Cheap Therapy to play for "Customer Appreciation" in Rozsa Lobby Mar. 15
Come to the Rozsa for a free concert with Cheap Therapy this Friday night, during "Customer Appreciation" week at Michigan Tech. Cheap Therapy, a local band that plays a wide variety of classic rock tunes, will play from 7:30 p.m. to 9 p.m. on Friday, March 15, in the Rozsa Lobby.
Cheap Therapy features Joel Tepsa on guitar and vocals, Mike Irish on bass, Denny McKaig on guitar and vocals, Paula McKaig on keyboard, accordion, vocals and trumpet, Dave Rulison on guitar and vocals, and Tom Collins on saxophone and vocals.
Read more at Keweenaw Now.