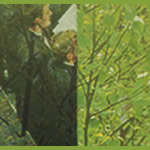 2012-13 Concert Season finishes with "Springtime Voices"
The first half of the concert will feature the Chamber Choir, "conScience," a 12-member, student-only, auditioned ensemble, and focuses on what director Jared Anderson calls "Aspects of Imagination."
The chamber choir's selections will include the six chansons of Paul Hindemith, "staples of the chamber choir repertoire," according to Anderson.
The second part of the concert will feature the Concert Choir, an 85-member group split about equally between students and community members, and will feature "a real eclectic mix" of songs. The first set is a "mystical kind of set," including "Lion of the Heart," another setting of a Rumi text composed by J. David Moore, as well as a piece called "Past Life Melodies" by Australian composer Sarah Hawkins.
Read more at the Michigan Tech Lode, by Nick Blecha.
Welcome Spring with "Springtime Voices" at the Rozsa!
According to Jared Anderson, assistant professor of music and director of choral activities at Michigan Tech, "…the concert will include both sacred and secular music from peoples and places around the globe–with a mix of traditional classical standards to more contemporary music for the stage and concert hall."
From Tech Today.