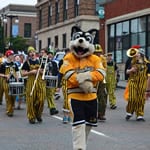 The Huskies Pep Band marched in the parade on Friday, June 21, for Bridgefest and FinnFest 2013.
Read more at Past-E-Mail.
Upper Peninsula Marketing Department, Inc., has shared images of the parade on Facebook.
The Huskies Pep Band is a Michigan Tech point of pride and one of the most lauded pep bands in the Midwest. Members enjoy an active schedule, performing at concerts, athletic events, parades, and special events. Open to all with band experience.
Contact Mike Christianson or visit the DAWGS page to learn more. Get involved with music in the Department of Visual and Performing Arts.