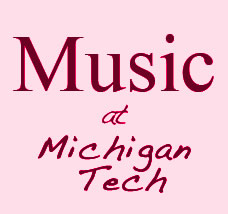 Get involved for the 2013-14 school year with music ensembles, private lessons, or a music minor.
Music at Michigan Tech 2013-14
No audition is required for Huskies Pep Band. To join, come to the Fall Band Camp during orientation week (Friday, August 30 from 4:30-8:30 pm).
Find out more about rehearsal times, ensembles, and music courses in the Department of Visual and Performing Arts.
• Jazz
• Band
• Orchestra
• Choir
• Chamber Ensembles
• Jazz Combos
• Private Lessons
• Need an Instrument?
• Instrument Lockers
• Practice Facilities
• Music Minors