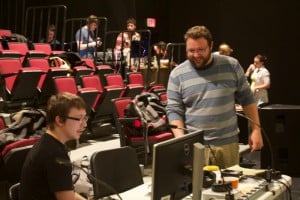 Multi-talented Graduate of SAE Institute Wins Award for Outstanding Achievement in Live Sound
Josh Loar, a 2007 graduate of SAE Institute, was honored as the Live Sound Engineer of the Year at SAE's 2013 alumni awards in New York City.
"It means a lot to me to be recognized for my work, particularly in a field like sound consulting and design, which isn't typically the focus of many awards," says Loar. "I always say that one of my goals in life is to make the world sound better, one room at a time, and I'm deeply appreciative of SAE's recognition of my work towards that objective."
"While I always found that I could make the projects or shows that I was working on sound great, I had no idea how I was doing it – I just operated on instinct, says Loar, who is currently a Professor of Practice in Sound Design, Visual and Performing Arts at Michigan Technological University in Houghton, Michigan
Read more at PRWeb.