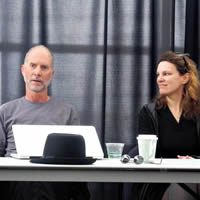 A delicate balance
Pulitzer Prize winner visits Tech
Scientists, researchers and artists work daily at Michigan Technological University but do not often come together. In an effort to bridge the gap between two disciplines, faculty and staff gathered for a panel discussion Tuesday featuring composer John Luther Adams, who was awarded the 2014 Pulitzer Prize for music Monday.
"In a lot of his writing he talks about what art and science have to say to one another and I thought, since we are a school that has both, it would be an interesting topic for conversation," said Libby Meyer, instructor of visual and performing arts at Tech.
That dialogue was facilitated by a panel including representatives from science and humanities disciplines, with John Vucetich, associate professor in the school of forest resources and environmental science; Amy Schrank, research assistant professor in the school of forest resources and environmental sciences; Chris Plummer, associate professor in visual and performing arts; M. Bartley Seigel, associate professor of creative writing and diverse literatures; and Evan McDonald, executive director of the Keweenaw Land Trust.
Read more at the Mining Gazette, by Meagan Stilp.
In the News
National Public Radio (NPR), Associated Press and Canadian Press wire services and other national and international media outlets reported that Alaska composer John Luther Adams was an artist in residency at Michigan Tech when he was notified that he had won the 2014 Pulitzer Prize in Music.
Alaskan Composer Wins Pulitzer For 'Become Ocean'
By telephone Monday afternoon, I located John Luther Adams, 61, in Houghton, Mich. (in the state's Upper Peninsula), where he is in residence at Michigan Tech. He said he was napping between classes when he got "a most welcome wakeup call" informing him he'd won the award.
Read more at Deceptive Cadence from NPR Classical, by Tom Huizenga.
Details on the 2014 Pulitzer Prize winners in journalism and arts, and reaction
MUSIC: John Luther Adams' "Become Ocean" (Taiga Press/Theodore Front Musical Literature)
John Luther Adams knew he'd been nominated for a Pulitzer Prize for his composition "Become Ocean," but he had no expectations of winning. He was so busy with classes as part of a residency at Michigan Tech University that he even forgot the day they'd be handed out.
"I was actually taking a quick power nap between classes and got a phone call. It was a quite a wake-up call," Adams said with a chuckle. "It was pretty great."
Though based temporarily in Michigan, Adams' thoughts are never far from Alaska.