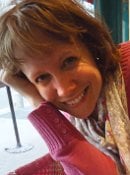 Biological Sciences Seminar Friday
by Department of Biological Sciences
Lisa Johnson, assistant professor in Visual and Performing Arts, will present "Art in the Field: Reimagining environmental experiences as art, science and community" on Friday, March 27, 2015, at 4 p.m. in Dow 642.
Johnson will present selections of her work, the work of artists from the Lakeside Laboratory and hold a conversation about open collaboration in this talk.
For more information, visit the biological sciences website.