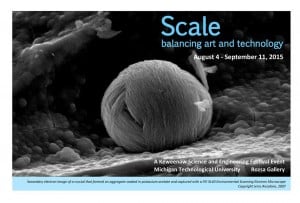 When we scale something, we adjust our focal point, zoom in or out and look at our subject in new and often unexpected ways. Important insights and revelations usually result from this change of perspective and altered mode of observation.
Scale: Balancing Art and Technology will showcase visual and material creations that inspire new exchanges of ideas and unique viewpoints. Participants will be scientists, artists and technicians who use any combination of images, technology, material objects or artistic expression as part of their personal or professional inquiry and process of innovation.
This exhibition seeks to celebrate the role that visual expression can play in sparking alternate perceptions and inspired conversations.
Please submit an entry form by June 1.
Participants will be asked to help install their work on August 3–4, 2015. Work must fit in the Rozsa Gallery, whose maximum ceiling height is 10 feet. Any technology required for submissions should be supplied by the participants, but exhibition staff can help ensure adequate security for equipment during the show.
For more information contact Elizabeth Hoy or Sarah Fayen Scarlett. To learn more about the Keweenaw Science and Engineering Festival (KSEF) visit here.
This exhibition is made possible by KSEF, Michigan Technological University, Visual and Performing Arts Department and the Rozsa Center for the Performing Arts.
Keweenaw Science and Engineering Festival – Sun, Sand & Science!
What do sun, sand and science have in common? The Keweenaw Science and Engineering Festival (KSEF) is filled with family-friendly interactive and educational events for all ages. This first-time festival needs your support!
To help fund this project, visit Superior Ideas.
Keweenaw Science and Engineering Festival
Michigan Tech and the community will come together to host the inaugural Keweenaw Science and Engineering Festival.
The event is designed to stimulate and sustain interest in science, technology, engineering and math (STEM) in the Keweenaw.
​
This four-day festival is an open forum to showcase all facets of STEM in the Western Upper Peninsula. Current scheduled events include the Michigan Tech Mind Trekkers, Nerd Night with Tech's Physics Department, the Family Engineering Day, Summer Concert Series, Science Pub Crawl, The Wonders of Physics, science comedian Brian Malow and David Gaynes presenting his documentary "Saving Hubble" and more!
This event is scheduled for Aug. 5 – 8, with most of the activities free to the public. Check out the current schedule. If you would like to get involved and run a hands-on demonstration or volunteer please contact Amanda McConnon at amcconno@mtu.edu.