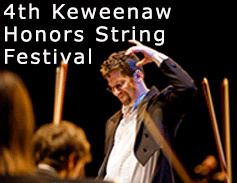 What is a Violapalooza? Lollapalooza with violas? Come to the 4th Keweenaw String Festival starting at 7:30 p.m. Saturday, October 10, 2015, at the Rozsa Center and find out.
Picture a host of young Kurt Cobains, playing classical music instead of Nirvana. We'll have stars of the Keweenaw Symphony Orchestra, special guests, along with emerging, talented violists of the Keweenaw—all on stage at the Rozsa.
For more information, see the Michigan Tech event page.
Rozsa Center to host "Senses of Land" Gallery exhibit, Keweenaw Symphony Orchestra "Violapalooza" concert Oct. 10
What is a Viola you ask? According to Wikipedia: "The viola is a bowed string instrument that is slightly larger than a violin, with a lower and deeper sound." The KSO's Violapalooza this Saturday will feature many, many violas!