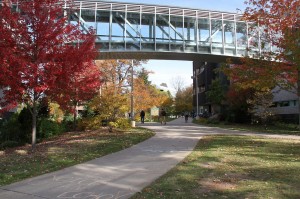 Students in 2D and 3D Design courses (VPA) will display prototypes they designed to reduce bird-window collisions.
The prototypes will be on display now through Dec. 15 at the library-Rekhi Skywalk and the second floor of the library. Ten designs are showcased inside the library-Rekhi skywalk, a prime location where bird strikes occur on campus.
The work represents a STEM-STEAM art-science collaboration. Student designs re-envision large panes of glass to eliminate bird window strikes and the species deaths they cause. Lisa Johnson (VPA) hopes the display will be used as a jumping off point for further collaborations between art, science and engineering to address this problem with creative new technologies.