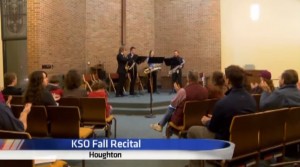 HOUGHTON — The only major symphony orchestra in the Keweenaw is refining its holiday tunes.
Michigan Tech University's Keweenaw Symphony Orchestra held its first fall recital at the Portage Lake United Church.
"A great symphony orchestra where the vast majority of the musicians are engineers and scientist," said the Keweenaw Symphony Orchestra's music director Joel Neves. "Yet they come together and make great music."
Read more and watch the video at Upper Michigan's Source, by Aleah Hordges.