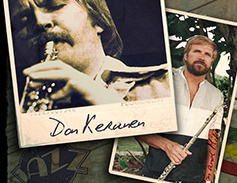 The jazz ensembles at Michigan Tech present the annual Don Keranen Memorial Jazz Concert at 7:30 p.m. Friday, March 22 in the Rozsa Center for the Performing Arts.
This annual event pays tribute to Keranen, originator of the Michigan Tech Jazz Studies Program. Featured in the concert will be the Jazz Lab Band and the Research and Development Band.
The Jazz Lab Band will perform works by Duke Ellington, including music composed for the film "Anatomy of a Murder." In addition, it will play music by Gabriel Fauré, Steely Dan, Professor Emeritus Mike Irish (VPA), George Gershwin, Bob Brookmeyer and Chick Corea.
The Research and Development Band will perform works by Miles Davis, John Coltrane, Horace Silver and more. Each of the large jazz ensembles will perform a piece featuring vocalist Clara Peterson, a Michigan Tech student. Also featured will be the premier of an original work composed by the Full Send Combo.
Tickets are on sale now, $15 for adults, $5 for youth and no charge for Michigan Tech students with the Experience Tech fee. Tickets are available online, by phone at 487-2073, in person at the Central Ticket Office in the SDC or at the Rozsa Box Office the evening of the performance.
Note: The Rozsa Box Office opens two hours prior to performances.