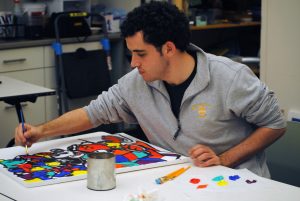 Owen Suskind is a young man on the autism spectrum. As a child he was unable to speak until he and his family discovered a way to communicate by immersing themselves in the world of Disney Films.
Owen's inspirational story is the subject of the award-winning documentary "Life Animated," one of more than 20 films featured in Michigan Tech's 41 North Film Festival which opens its four-day run tomorrow in the Rozsa Center for the Performing Arts.
Owen Suskind is the son of Pulitzer Prize-winning journalist Ron Suskind on whose best-selling memoir "Life Animated: A Story of Sidekicks, Heroes, and Autism," the film is based. The film, directed by Academy Award-winning director Roger Ross Williams, has won awards from numerous film festivals including Sundance, Telluride, Full Frame, Berkshire International and San Francisco International. Suskind and Williams will be in attendance when "Life Animated" is shown at 7:30 p.m. Friday. They will lead a discussion of the film following its showing.
Williams will also be on hand at 6 p.m. Friday for the showing of "Music by Prudence," the documentary short for which he received the 2010 Academy Award.
Following "Life, Animated" on Friday, there will be a reception and party featuring music by the Kalamazoo band The Go Rounds.
Michigan native Jason Zeldes, an award-winning editor, will help kick off the festival with the showing of his directorial debut "Romeo is Bleeding" at 7:30 p.m. tomorrow.
The film follows poet Donté Clark as he attempts to mount an urban adaptation of "Romeo and Juliet" with the hopes of starting a dialogue about violence in his hometown of Richmond, California.
Director Brian Kaufman will participate in a panel discussion on his films "Predator/Prey: The Fight for Isle Royale Wolves " and "Counting Wolves."  Kaufman will be joined by researchers Rolf Peterson and John Vucetich. The film takes up the controversy around how to respond to the island's dwindling wolf population.
Now in its 12th year the 41 North Film Festival offers a wealth of quality films at no cost. Tickets are free, with donations accepted.
As it has from the beginning, Michigan Tech's Department of Humanities is a major sponsor of the festival. Humanities Department Chair Ronald Strickland says the department is proud of the way it has grown.
"In the Humanities we explore what it means to be human and it is reflected and sometimes defined through art, literature and other cultural practices," Srickland says.
He says the films in each year's festival are carefully selected by Festival Director Erin Smith, a principal lecturer in Digital Media and Film and director of the Humanities Digital Media Zone.
"Erin chooses the films and the invited filmmakers with a view to connect with the academic interests of Michigan Tech students and faculty and current popular topics of interest to members of the local community as well. It's a four-day smorgasbord of culture with something for everyone."
Smith says this year's films cross a variety of topics and genres. "These are films that have been winning awards in festivals across the country and even around the world. While the topics in many of them are serious and thought-provoking, most open up discussion by telling great stories about some very compelling characters. "
Also featured this year is "Sonita," the 2015 Sundance-award winning story of a young Afghan refugee in Iran who seizes her destiny through music.
The Festival concludes on Sunday with the 7 p.m. screening of "Generation Startup." The 2016 documentary follows six college graduates as they put everything on the line to start their own businesses in Detroit..
Film festival tickets are available by phone at 7-2073,  online at Rozsa@mtu.edu, in person at the Central Ticket Office in the Student Development Complex and at the Rozsa Box Office an hour before showtime.
A complete schedule of all films and their showtimes is available at 41northfilmfest.org.