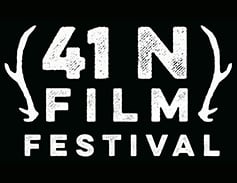 From a family's unique intervention into the silent world of autism to six intrepid young entrepreneurs building startups in Detroit, the 41 North Film Festival offers human stories that engage, inform, inspire and uplift.
Over the course of four days, the festival features more than 20 acclaimed films from around the world, as well as music, prizes and other special events.
Pulitzer Prize-winning journalist Ron Suskind and Academy Award-winning director Roger Ross Williams will be in attendance for the screening of "Life, Animated," the documentary based on Suskind's best-selling memoir "Life, Animated: A Story of Sidekicks, Heroes, and Autism."
Award-winning editor, and Michigan native, Jason Zeldes will present his directorial debut film, "Romeo Is Bleeding."
Detroit Free Press Executive Video Producer Brian Kaufman will be joined by Rolf Peterson (SFRES) and John Vucetich (SFRES) for a panel discussion following the screening of his film "Predator/Prey: The Fight for Isle Royale Wolves".
Among other feature films included this year are "All These Sleepless Nights," (Marczak, 2016), "Operator" (Kibens, 2016), "Kedi" (Torun, 2016), "Do Not Resist" (Atkinson, 2016), "Death by Design" (Williams, 2016), "A Stray" (Syeed, 2016) and "Sonita" (Maghami, 2016), which won both the 2016 Sundance Audience and Grand Jury prizes for World Cinema Documentary.
Now in its 12th year, the festival continues to be free and open to the public. Major Sponsors include the Humanities department, the Visual and Performing Arts department, the Rozsa Center for the Performing Arts, Student Affairs and Advancement, Pavlis Honors College, the Visiting Women & Minority Lecturer/Scholar Series and the Parents Fund of the Michigan Tech Fund.
Learn more about the films, events, sponsors and how to reserve your ticketonline. For more information email 41north@mtu.edu.
by Erin Smith