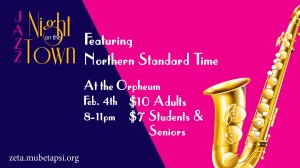 The Mikes: both Irish & Christianson (Northern Standard Time) will be swinging it at the Orpheum as a fundraiser for Mu Beta Psi, the national music support fraternity!
Thursday, Feb. 4, 2016
Orpheum, Hancock, MI
8-11PM
Jazz Night on the Town
Join the brothers of Mu Beta Psi for a benefit concert from 8 to 11 pm Thursday, February 4th in the Orpheum Theater in downtown Hancock.
The concert features jazz from Northern Standard Time and AstroSax and benefits the John Macinnes Student Scholarship. This scholarship honors applicants that have shown interest and participated in the musical organizations at Michigan Technological University.
Help support a great cause and listen to phenomenal jazz. Tickets are $10 for Adults and $7 for Students and Seniors.