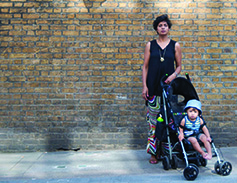 "Being Between," artist Lali Khalid's photographs of identity, displacement and home, are on display in Rozsa Gallery, A-Space, through Thursday, Sept. 22.
The gallery hours are 8 a.m. to 8 p.m. Monday through Friday and 1 p.m. to 8 p.m. on Saturday.
A special lecture by the artist is scheduled for 3 p.m. Friday, Sept. 16 in M&M U115. The gallery reception follows from 4:30 to 6:30 p.m. in the Rozsa Gallery (lower level).
Khalid, a Pakistani-American artist, holds degrees from The National College of Fine Arts in Lahore, Pakistan, and The Pratt Institute in Brooklyn, NY. "Being Between" is the first exhibit of the Rozsa Galleries new "Independent Artist Series."
For additional information, contact Lisa Gordillo.