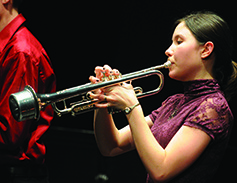 The Department of Visual and Performing Arts presents "Music O Rama" at 7:30 p.m. Saturday (Oct. 1) at the Rozsa Center for the Performing Arts.
"Music O Rama," an annual musical variety concert, will be held this year in honor of a couple that has spent many years participating in the Arts at Michigan Tech. This concert is sponsored by John and Biruta Lowther, in celebration of their 50th wedding anniversary. The Lowthers and their family took part in many of Michigan Tech's various music ensembles.
The celebration will feature performances by conScience, Superior Wind Symphony and Jazz Lab Band. According to John Lowther, "We wanted to celebrate our 50th anniversary and express our appreciation to the music department for the years of music our family has enjoyed. I played in the Keweenaw Symphony Orchestra for a number of years. Our son played in the Pep Band and sang in the Concert Choir. Biruta and I enjoyed singing together in the Concert Choir."
Tickets are on sale now, $13 for adults, $5 for youth, and no charge for Michigan Tech students with the Experience Tech fee. Tickets are available by phone at 7-2073, online, in person at the Central Ticketing Office in the Student Development Complex or at the Calumet Theatre Box Office.
by Bethany Jones