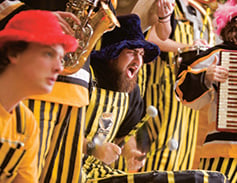 The Michigan Tech Huskies Pep Band pre-celebrates 50 years of be-striped peppiness in its inimitable concert style at 7:30 p.m. Thursday (Oct.) in the Rozsa Center.
Not yet experienced the sound and sight sensation that is the Huskies Pep Band? They are a true sensory extravaganza. The Huskies Pep Band is a Michigan Tech point of pride and one of the most lauded pep bands in the Midwest. Members dressed in "bumble-bee" stripes perform at concerts, athletic events, parades and special events all around Houghton and support Michigan Tech teams on the road as well.
The Huskies Pep Band is a nationally-known Division I pep band of nearly 250 members that performs at all home football, basketball and hockey games.
The band was selected as the host band to the WCHA Final Five Tournament in 2006, 2007, 2008 and 2009.
What can you expect at the concert? According to Director of Bands Michael Christianson (VPA), "… As the Huskies Pep Band becomes 'almost golden' as a 'scramble band,' they are 'concerned' about their 'legacy' of 'music-making' and 'stylish dress' and their 'failure to yet achieve the gold.' Please join us in our concert/therapy session as we loudly and flamboyantly try to work out 'our issues' in 'our own special way'"
Tickets for Almost Golden at the Rozsa Center are on sale now, $13 for adults, $5 for youth, and no charge for Michigan Tech students with the Experience Tech fee. Tickets are available by phone at 7-2073, online at Rozsa.mtu.edu, in person at the Central Ticketing Office in the Student Development Complex.
by Bethany Jones