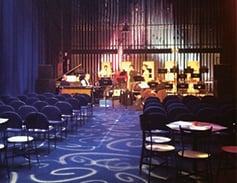 "Backstage at the Rozsa" again opens its doors to the groovin' sounds of big band jazz to celebrate the 50th year of Jazz Studies at Michigan Tech.
The Research & Development Big Band and the Jazz Lab Band will present a program featuring both the old and new—vintage and contemporary. A wide variety of tunes will be featured; Latin, mainstream, funk, ballads, rock and swing.
The Rozsa stage becomes a pop-up jazz club, and the intimate club atmosphere is a perfect setting for the Research & Development  (R&D) Big  Band and the Jazz Lab Band to loosen the reins on creativity and capture the flow of jazz!
Join Jazz Studies Program Director Mike Irish and the Michigan Tech Jazz ensembles for Jazz Showcase, "Backstage at the Rozsa" at 7:30 p.m. Friday and Saturday (Oct. 21-22).
According to Irish, "There will be two 'Backstage Jazz Series' again this year, culminating in a finale concert on Saturday, March 25, featuring both big bands, guest artists and a return of the always popular Alumni Jazz Band."
Elaborating about the history and excitement of Jazz, Irish says "Jazz was  born in the 'tonks and joints' of Storyville in New Orleans, and has always found a home in the small but lively entertainment venues throughout the  world—the "speakeasies" of Chicago, the Savoy Ballroom in Harlem, the Roseland Ballroom in Manhattan, Minton's Playhouse in Harlem, Birdland in New York, Ronnie Scott's in London, the Town Tavern in Toronto, the  A—Trane in Berlin, the Shaft in Istanbul, the Blue Note and Vanguard in New York and the Orpheum in Hancock."
Irish says "Jazz is now enjoyed and practiced all over the world, and is  one of America's greatest cultural exports. So sit back, and immerse yourself in the music. In the words of jazz legend Art Blakey, 'Jazz washes away the dust of everyday life.'"
Tickets for "Backstage Jazz at the Rozsa" are on sale now, $13 for adults, $5 for youth and no charge for Michigan Tech students with the Experience Tech fee.
Tickets are available by phone at 7-2073, online at Rozsa.mtu.edu, in person at the Central Ticketing Office or at the Rozsa Box Office the evening of the performance. Note the Rozsa Box Office only opens two hours prior to performances.