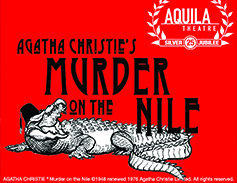 Start with air raid sirens. Add WWII BBC broadcasts. Sprinkle on morse code and British actors during the time of Nazi-occupied Europe and you've got the 25th Anniversary National Tour of the acclaimed off-broadway Aquila Theatre Company, who are bringing Agatha Christie's "Murder on the Nile" to the Rozsa Center stage at 7:30 p.m. Thursday (Oct. 27).
"Murder on the Nile," by one of the greatest mystery writers in world literature, features a masterful whodunit and Aquila's clever signature style. Aquila's production is set in the early 1940s during World War II at the BBC Home Service studios in London. Air raid sirens were a regular occurrence in London during this time as Great Britain was on constant alert to bombings by Germany. Members of the theatre troupe have arrived and are preparing for a live radio broadcast of "Murder on the Nile," but another air raid has prevented the full cast from assembling and yet, the show must go on—somehow.
In Agatha Christie's own staging of her famous novel, "Death on the Nile," a paddle steamer is cruising the legendary Nile River in 1940's Egypt. The passengers aboard are abuzz when the famous heiress, Kay Ridgeway, and her penniless new husband, Simon Mostyn board the ship.
Class, money, and reputation are all at stake in one way or another for the passengers and before they know it deceit, theft and murder quickly make waves on the river.
Spurned lover Jacqueline De Severac, protective uncle Canon Pennefather, a troubled German Doctor and a host of colorful and mysterious characters add to the drama and suspense of this classic Agatha Christie mystery.
Who can be trusted? Who holds the truth? Who is a suspect? Whodunit? Aquila Theatre brings its innovative touch to this deliciously dangerous murder mystery, with brilliant direction, superb acting, thrilling physicality and stunning designs. Aquila's "Murder on the Nile" will be a classic all over again.
Tickets are $22 for adults, $10 for youth, no charge for Michigan Tech students with the Experience Tech Fee. Tickets are available by phone at 7-2073, online, in person at the SDC Central Ticket Office or at the Rozsa Box Office the evening of the performance. (Note: the Rozsa Box Office only opens two hours prior to performances).
By Bethany Jones