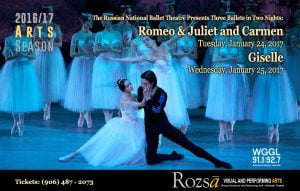 The Rozsa Center for the Performing Arts presents two magical nights of incomparable Russian ballet. Direct from Moscow, the Russian National Ballet Theatre, featuring fifty of Russia's finest dancers, will perform three timeless ballet pieces, "Romeo and Juliet" and "Carmen" on Tuesday, Jan. 24 and "Giselle" on Wednesday, Jan. 25.  Shows start at 7:30 p.m. each evening.
According to Rozsa Center Director of Programming Mary Jennings, "… the Russian National Ballet Theatre is an institution in Russian Ballet. Legendary Bolshoi principal dancer Elena Radchenko, the founder of the Russian National Ballet Theatre, has focused the company on upholding the grand, national tradition of the major Russian ballet works."
On the first of two nights, they will perform the full-length "Romeo and Juliet" by Sergei Prokofiev based on Shakespeare's play. Performed in one act, the ballet tells the story of Romeo and Juliet, the quintessential star-crossed lovers. Prokofiev's music is paired with original choreography by Marius Petipa, the "godfather of Russian ballet."
In the second act they will perform "Carmen," a full-length ballet also in one act. Music by Rodion Shchedrin based on the classic opera by Georges Bizet with choreography by Alberto Alonso. Carmen, a passionate, free-spirited woman, is caught in a love triangle between Don José and a bullfighter. The impetus and cause for the creation of the ballet Carmen was the cherished dream of the celebrated Russian ballerina Maya Plisetskaya to depict the highly strung and riveting character of Carmen in a ballet.
On the second evening, the Russian National Ballet Theatre performs the full-length, tragic ballet "Giselle," about a peasant girl who dies of a broken heart after discovering her lover is betrothed to another.
"Giselle" was composed by Adolphe Adam, and is a romantic jewel of Petipa. "Giselle" was first seen in Moscow in 1843, just two years after its creation in Paris, and a year after it was staged in St. Petersburg.