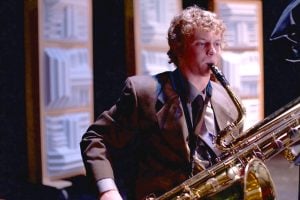 "Backstage at the Rozsa" again opens its doors to the groovin' sounds of small-combo jazz to celebrate the 50th year of jazz studies at Michigan Tech.
There will be three student ensembles: Jaztec, Momentum with a combination of funk and fusion; AstroSax; and one special guest ensemble: The Dan Fuhrmann and Tim Havens Duo, here for their second guest appearance at Michigan Tech.
The Rozsa stage will become a pop-up jazz club, and the intimate atmosphere is a perfect setting for some funk and fusion and even some standards from these four ensembles.
Join Jazz Studies Program Director Mike Irish and the Michigan Tech Jazz ensembles who bring to life the great sounds from throughout the years. Hot and steamy to cool and mellow.
Join us in Club Rozsa and enjoy the intimate atmosphere reminiscent of the birthplace of jazz. Backstage at the Rozsa is at 7:30 p.m. Friday and Saturday (Jan. 27/28).
According to Irish, "There will be two 'Backstage Jazz Series' again this year, culminating in a finale concert on Saturday, March 25, featuring both big bands, guest artists and a return of the always-popular Alumni Jazz Band."
Tickets for Backstage Jazz at the Rozsa are on sale now, $13 for adults, $5 for youth and no charge for Michigan Tech students with the Experience Tech fee. Tickets are available at 7-2073, online, in person at the Central Ticketing Office or at the Rozsa Box Office the evening of the performance. (Note the Rozsa Box Office only opens two hours prior to performances). Unable to make the performance? You can Listen Live starting at 7:30pm.