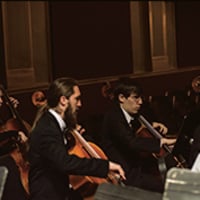 The Rozsa Center welcomes the Keweenaw Symphony Orchestra (KSO) in a special Winter Carnival Matinee concert titled "The Greatest Movie and Video Game Music," at 2 p.m. Saturday (Feb. 11).
The KSO partners with Winter Carnival in a celebration of the greatest movie and video game music. "We wanted to present a pops concert of music that everyone knows and loves," says KSO Music Director, Joel Neves. "Filmgoers will enjoy the music to 'The Lord of the Rings,' 'Pirates of the Caribbean' and the original 'Star Wars' suite.
"Gamers will absolutely love the themes to 'World of Warcraft,' 'Super Mario Bros' and 'Bohemian Rhapsody.' It's got something for everyone."  The concert is dedicated to the memory of Carrie Fisher, who played Princess Leia in several 'Star Wars' films. Fisher died on Dec. 27 at the age of 60.
The performance is an official event of the Michigan Tech 2017 Winter Carnival. Tickets are on sale now, $19 for adults, $6 for youth and no charge for Michigan Tech students with the Experience Tech fee. Tickets are available by phone at 7-2073, online, in person at the Central Ticketing Office in the Student Development Complex or at the Rozsa Box Office the afternoon of the performance.  Note the Rozsa Box Office only opens two hours prior to performances.