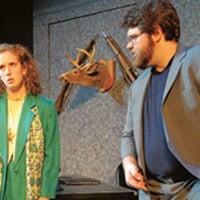 The Michigan Tech Theatre Company presents David Mamet's award winning play "Sexual Perversity in Chicago."
The play, which explores the nature of sexual relationships, will be performed Thursday, Friday and Saturday, with additional performances Feb. 23-25 in the McArdle Theatre on the second floor of the Walker Fine Arts and Humanities Center. Performance time is 7:30 p.m. each evening.
First produced in 1974, "Sexual Perversity in Chicago" continues to speak to generations of young adults in the unyielding clutches of sexual inelegance.
According to the New York Times, the play "takes funny and painful digs at the fantasies and distances of the contemporary sexual game."
It has twice been adapted to film, "About Last Night … " (1986) starring Rob Lowe and Demi Moore and "About Last Night" (2014) with Kevin Hart and Regina Hall.
The Tech Theatre production of "Sexual Perversity in Chicago" is under the direction of Roger Held. Tickets are $13 for adults, $5 for youth and no cost for Michigan Tech Students with the Experience Tech Fee.
Tickets are available online, at the Central Ticketing Office in the Student Development Complex and by phone, 7-2073.