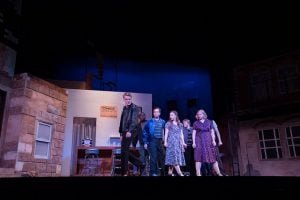 WLUC TV6 ran a story on the Michigan Tech Theatre Company's production of "West Side Story." The show opened last night at the Rozsa Center for the Performing Arts with additional performances tonight and tomorrow at 7:30 p.m. Watch the TV6 story.
The Michigan Tech Theatre Company and the Keweenaw Symphony Orchestra bring the musical "West Side Story" to the Rozsa Center for the Performing Arts. The legendary musical opens today with additional performances Friday and Saturday. Curtain time is 7:30 p.m. each evening.
"West Side Story" changed the very nature of American musical theatre. With music by Leonard Bernstein and lyrics by a young Stephen Sondheim, the play was grounded in a distinctively modern sound with a passionately poetic statement — place where everyone can grow beyond the confines of hate and poverty, a safe and beautiful place.
A modern adaptation of a quintessential tale of star-crossed lovers, "West Side Story" isn't performed often for a very good reason. According to director Patricia Helsel, "It's simply a very difficult play to perform. The show requires many different dance styles ranging from jazz, to 50s "hipster beat," to Latino and ballet. The music is also challenging with complex rhythms and styles for the ensemble, matched with a call for operatic technique for the young lovers. Overall, this is not your typical, run-of-the-mill golden era musical comedy."
The subject matter is highly charged with racial tension, fear, hate and love — some pretty intense emotion that is intricately woven in textures throughout the play, taking the audience on a meaningful journey.
Comedy plays a matching role in the show, with memorable numbers like "Officer Krupke" and "America."
Tickets are on sale now, $19 for adults, $6 for youth and no charge for Michigan Tech students with the Experience Tech fee. Tickets are available by phone at 7-2073, online, in person at the Central Ticketing Office in the Student Development Complex or the night of the event, one hour before show time, at the Rozsa Center Box Office.