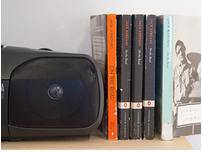 Who owns the wind? The leaves on the trees? When a paper company cuts down a 75-year-old tree, or a landowner clears brush for a better view of the lake, how is an entire ecosystem affected? What ethical, cultural and social questions are raised?
Artist Katie Hargrave, a professor of art at the University of Tennessee, Chattanooga, explores these questions in her exhibition, "It's nothing personal (space)."
The exhibition opens at the Rozsa Center's gallery A-Space, on Friday, Sept. 22. "It's nothing personal (space)" is an exploration of the competing ideas of ownership and stewardship as they relate to public and private land, trees and deserts, and individual and corporate voices.
Inspired by a road trip to the Malheur Wildlife Refuge, the site of militia protests during the winter of 2016, the exhibition includes fiber, audio, video and drawings.
A reception which features a discussion of her work by the artist will be held from 5 to 6:30 p.m. Saturday, Sept. 22. The reception and exhibit are free and open to the public. The show will remain open through Nov. 11. Gallery hours are 8 a.m. to 8 p.m. Monday through Friday and 1 to 8 p.m. Saturdays.