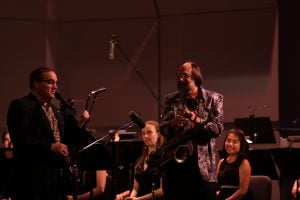 Mike Christianson plays trombone at the outset of this mini-documentary…
Michael Christianson, Michigan Tech's Department of Visual and Performing Arts Director of Bands, will perform in "Jazz at the Lincoln Center" with the legendary Fred Hersch, Kurt Elling & Kate McGarry in a performance titled "Leaves of Grass," in the Appel Room at the Lincoln Center in New York City, this Friday and Saturday, at 7:00 PM and 9:30 PM nightly.  Christianson, trombonist and fifth generation band leader, came to Michigan Tech from New York City in 2012. Originally from Fargo, ND, Mr. Christianson moved to the NYC area to become a low brass performer after finishing his degree in Moorhead. He has built a varied, interesting and successful career as a musician, recording, touring, and performing with the greatest musicians of his time: From Ray Charles to Philip Glass. He has also performed in over 30 Broadway shows, is an active participant in the NYC free-lance scene where he established the Gotham Wind Symphony, continues to make special new music performances including Philip Glass' The Bacchae in Central Park, Henry Brant's Orbits for 80 trombones at the Guggenheim, and Anthony Braxton's Composition #19 for 100 tubas at the World Financial Center.
Notable accolades for Mike's performances include:
"Among the instrumental high points: …Mike Christianson's plunger-muted trombone on 'My Lovers Suffocate Me'". -Don Heckman- Los Angeles Times
"…superb Tricky Sam is now plunger-muted trombone by Mike Christianson." -Marc Meyers- All About Jazz (CD review)
"…trombonist Mike Christianson playing elegant solos, …" –           Will Stewart- Ann Arbor News
"…top honors for the brass section go to Mike Christianson, whose sexy growl highlighted "Part X: My Lovers Suffocate Me"…" -Greg Haymes- Albany Times Union
According to the Lincoln Center, "Originally premiered at Carnegie Hall in 2005, Leaves of Grass celebrates the life and poetry of the American bard Walt Whitman, whose work redefined American poetry and had a significant, life-affirming impact on Hersch. In this Appel Room performance, vocalists Kurt Elling and Kate McGarry will reprise their acclaimed roles from the original project, presenting Whitman's words with grace, emotion, and a lyrical sweetness that would have made Whitman proud. An eight-piece ensemble, featuring trumpeter Nadje Noordhuis, trombonist Mike Christianson, multi-reedist Bruce Williamson, tenor saxophonist Tony Malaby, cellist Jody Redhage, bassist John Hébert, and drummer John Hollenbeck, will assist them in evoking the sweeping melodicism for which Hersch is renowned. It's been over 160 years since Whitman wrote his epic masterwork, "Song of Myself," which forms the centerpiece of Hersch's Leaves of Grass, and its messages seemed almost alien in our society at the time. Now, its promotion of unapologetic love for one's true self, appreciation of the present, wonder at the miracle of nature, and the openhearted love of all beings is especially timely and important. It is a powerful and unique experience to witness this profound poetry spun into song by one of today's leading musical visionaries."  For more information about the Leaves of Grass event, please visit Jazz at the Lincoln Center online at jazz.org
Grammy-winning composer and pianist Fred Hersch, who has been described by the New York Times as "a master who plays it his way" will travel to Houghton in March 2018. The Rozsa Center will present a film based on his life titled "The Ballad of Fred Hersch" on March 22, and The Fred Hersch Trio will perform on the Rozsa stage on March 24th. For tickets and more details about the Fred Hersch events at the Rozsa Center, please visit mtu.edu/rozsa.