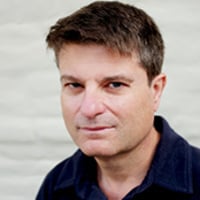 Do robots want your job? Martin Ford, Silicon Valley entrepreneur and author of the New York Times best-selling book, "Rise of the Robots: Technology and the Threat of a Jobless Future," will answer that question when he presents a public lecture at the Rozsa Center at Michigan Technological University on Saturday (Sept. 23).
He will also present a program for students on emerging trends in robotics and artificial intelligence and one for faculty on artificial intelligence and industry trends. The student program, "Pasties and Robots," is scheduled from noon to 1 p.m. Saturday on the Rozsa Center for the Performing Arts stage. Space is limited, and students are asked to sign up in advance at the Career Services office, Administration Building 220. Visit the Rozsa Center's Community Engagement page if you would like to help with student activities.
From 1:30 to 2:30 p.m. Saturday, faculty from across campus are invited to join Ford on the Rozsa Center stage for a discussion about emerging industry trends in robotics, artificial intelligence, and the future of personalized learning. Coffee and light refreshments will be provided.
Ford will give a public lecture at 7:30 p.m. Saturday at the Rozsa Center. His topic is "Disruptive Technology: Do Robots Want Your Job?" Admission is free. A Q&A and book-signing will follow.