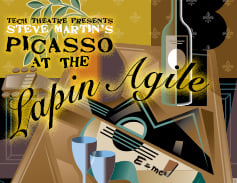 Tech Theatre presents Steve Martin's Picasso at the Lapin Agile
Art or science, what has more power to change the future? Come, have drinks with Einstein and Picasso, at the Lapin Agile, a bar in 1904 Paris, as delightfully imagined by actor, comic, musician, and yes, playwright, Steve Martin. In his first full-length play, Martin puts Picasso and Einstein on a funny and poignant collision-course to drink, laugh, and debate the genius and imagination that inspires both. Members of the audience can even "drink" at the bar! There will be seats at the café tables for a few lucky audience members each night, with refreshments and snacks served as part of the performance. Tech Theatre, Directed by Christopher Plummer, Professor, Visual and Performing Art,  presents Picasso at the Lapin Agile, a thoughtfully comedic look at the power of imagination at the start of the 20th Century, from the perspective of two giants of their time. The show will run for two weeks, Thursday – Saturday, October 12 – 14, and Wednesday – Friday, October 18 -20, at 7:30 pm in the McArdle Theatre.
A long-running and popular Off-Broadway play, Picasso at the Lapin Agile began with a first reading of the play at Steve Martin's home. Tom Hanks read the role of Picasso, and Chris Sarandon read Einstein. Following further development, the play opened at the Steppenwolf Theatre Company in Chicago on October 13, 1993. The show then enjoyed a successful run in Los Angeles and then made its way to New York City. The New York Times wrote, "It's important to remember that the playwright of Picasso at the Lapin Agile is Steve Martin, stand-up comic, actor, writer, banjo player and something of a genius in his own right. So when big questions are being addressed, you can be sure that a layer of silliness is always in place (and, subversively, a layer of seriousness beneath that)."
 According to Alexandra Walker, Tech Theatre's stage manager for Lapin Agile, "The play explores the question 'what is the power of genius?' As Picasso and Einstein argue over who will be able to change the century more with their work, we come to the conclusion: Both art and science are important, summed up in the words of Freddie, the Lapin Agile bartender/owner Freddie, proposing a toast with his patrons: 'No movement will be as beautiful as the note across the staff, the line across the paper, or the idea across the mind.'"
Tickets are on sale now, $13 for adults, $5 for youth, and no charge for Michigan Tech students with the Experience Tech fee. Tickets are available by phone at (906) 487-2073, online at mtu.edu/rozsa, in person at the Central Ticketing Office in the Student Development Complex, or the night of the show at the McArdle door, which opens one hour prior to performances.