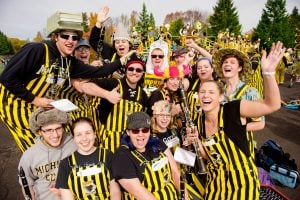 Huskies Pep Band Concert Celebrates "50 Years of Be-Striped Irreverence!"
The Huskies Pep Band presents Scrambling all the Way: 50 Years of Be-striped Irreverence next Friday, October 13, at 7:30 PM in the Rozsa Center. The Huskies Pep Band (HPB) is a Michigan Tech point of pride and one of the most lauded (and loud!) pep bands in the Midwest. Members dressed in "bumble-bee" stripes perform in unscripted and unrestrained glory at concerts, athletic events, parades, and special events all around Houghton, and support Michigan Tech teams on the road as well. The Huskies Pep Band is a nationally-known Division I pep band of nearly 250 members that performs at all home football, basketball, and hockey games. The band was selected as the host band to the WCHA Final Five Tournament in 2006, 2007, 2008, and 2009.
What can you expect from the Pep Band "live and In-concert?" According to Director of Bands Michael Christianson,
"On this date, or likely some other one 50 years ago, Michigan Technological University's Director of Bands Don Keranen decided to transform the Huskies Pep Band into a bestriped, scrambling, irreverent, annoying, distracting force for both good (for our athletic teams) and not as good (for the opposing teams). Since then, the HPB has performed at many arenas and stadiums (including some from which they have been banned for creating a "home atmosphere" for Michigan Tech's teams), learned more than 8 songs, developed the capacity to breathe fire, been a P.E. credit for many movement-challenged students, and reached the age of 50 as a "Scramble" band!"
Christianson adds, "To celebrate, our yearly Pep Band Concert will feature tunes from all 50 years of scramblin' (as well as several from our brand-new CD, plus photos and videos from many years. Our world-famous HPB Swag will be available for purchase at intermission, and we fully intend to have well-known guests with us for the event, as soon as they make bail. The concert is Friday October 13, there will likely be a ghoulish flavor to the evening…bwahahaha. Actual Quotes:
"I didn't know such sounds were possible!"- Marlee Matlin.

"Vertical stripes aren't always slimming."- Anna Wintour.

"Will there be another taco eating contest?"-Taco Bell"
Tickets for Scrambling all the Way: 50 Years of Pep at the Rozsa Center are on sale now, $13 for adults, $5 for youth, and no charge for Michigan Tech students with the Experience Tech fee. Tickets are available by phone at (906) 487-2073, online at Rozsa.mtu.edu, in person at the Central Ticketing Office in the Student Development Complex, or at the Rozsa box office the night of the show. Please note that the Rozsa box office opens only two hours before performances.